Moving to 2 services
Starting on September 14th BCC began holding two Sunday Services.  Watch the video below to learn more.
Be Loved. Go Deeper. Live it out.
You can arrive between 9 and 9:15, drop off your small children at Sunday School, attend a service, enjoy some fellowship, coffee and a treat from 10:15 – 10:45.  Here is a timeline of our Sunday Morning to help you determine your family's schedule.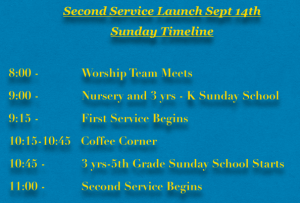 You can also serve in a number of volunteer opportunities.  You are always free to join us early and serve in one of our ministry areas and then sit through the second service.  Of course, you can simply come to a service and leave, but we want to make sure that if you are feeling called to serve in any area, we can help you do that.
You will hear more about some of those opportunities in coming weeks.  They include, nursery, Sunday School, sunday school teaching, coffee corner, occasional meals, the media booth, and more.
Thanks for helping us make this a smooth transition.  And ALWAYS know I am here to make sure you not only get the best church experience possible, by being loved, but also to help you go deeper and live it out.