God Always Provides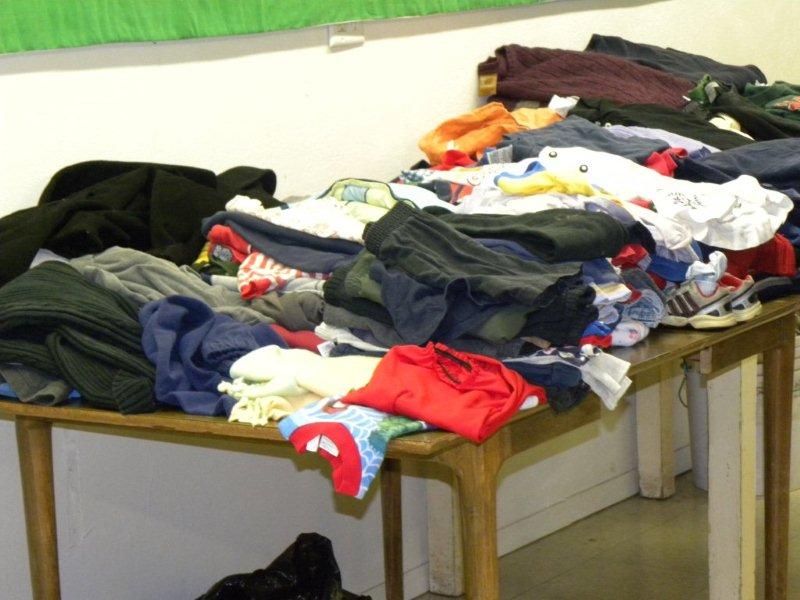 BCC sends a team to Freedom Fellowship to serve breakfast and help with children's ministries the second Sunday of each month.  It is a time I look forward to!
However last weekend, I was feeling a bit under the weather.  I had been attacked by a "killer cold," and I was struggling to have the energy to make the last minute trip preparations.  A small mountain of donations had accumulated in the hallway of the church, and I had been eagerly anticipating delivering them.  But by Saturday evening, my tired body was really questioning their worth!  I was tired.  It was cold outside.  Would that stuff really make a difference, I wondered?
Thankfully, I am blessed with a helpful family!  They noticed how worn out I was feeling and volunteered to help load everything.  We made trip after trip from the church to my van until donations were piled all the way to the roof.  In all honesty, I was thankful to have the "mess" out of the hallway, but I was still wondering if all that stuff would really make a difference.
Sunday morning we left the church by 7 am and arrived in McLaughlin in plenty of time to prepare breakfast for the members of Freedom Fellowship.  People came hungry, and it was fun to watch them enjoy what we had prepared.  Bacon was by far the favorite!
We joined them for a time of worship.  Walking into the sanctuary the first thing I noticed was the lack of adults!  I had never been to church where the vast majority of the congregation was children, but that is the reality at Freedom Fellowship.  Patti directed us to sit near certain pockets of children that might benefit from an adult nearby.  After several songs and a prayer time, a time of discipleship began.
Our team had prepared a lesson for the children.  We worked with about 10 children whose ages ranged from 5 to 12.  I love hanging with and teaching kids, so I very much enjoyed this part of the morning.  After 35 minutes of teaching, it was time for the kids to ride the bus home.
Our team headed home as well.  We had some great discussions on the way home about different needs we noticed within the church and some ideas of how we could perhaps meet those needs.  I returned home totally exhausted, but also refreshed and excited about the partnership we are forming in McLaughlin.
End of story. . . or so I thought!
Yesterday, I received a message from Patti. She thanked us for coming and for delivering the donations. She said that their church had  been made aware of an emergency situation early this week.  Five children in their community had been displaced and were in immediate need of clothing and supplies.  Patti was able to rummage through the donations that we had brought and find some things to meet the needs of these children. (Yep.  Those same donations that I was tempted to leave behind!)
That email was such a great reminder for me that God always provides and He uses all of our offerings (even when we wonder if what we have to offer could ever make a difference!)
We will return to McLaughlin, Sunday February 12.  If you would like to join our team, please contact me (Alicia Dietrich) at bcc@bismarckcommunitychurch.com. I look forward to serving with you!