Why we must learn to pray the Psalms
There is a phrase I say sometimes that I think might shock people.  That should surprise no one.  My wife often tells me that I might want to use less expressive language.  Always listen to your wife. But I do sometimes say this phrase and people sort of make a shocked face.  The phrase is "I am an idiot."
I kinda like that it shocks people.  People don't look shocked when I say "I am sinner," and I think the language of confession ought to be utterly shocking.
The Church has gotten good at whitewashing failure.  We use sin in its general sense and nod knowingly while simultaneously feeling rather smug.  I think that's why I like the phrase "I am an Idiot."  I want people to consider if maybe they are too.
I mean it too.  I make stupid decisions everyday.  I waste time.  I waste money.  I seek fame and recognition from others.  I do a million things on the regular that really are insignificant and selfish.  One word for this is sin, another is idiocy.
But that's not the point.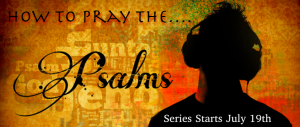 As an idiot, I often struggle for the right words at the right time.  Actually on my good days I struggle, on my bad days I actually think I have the right words for the right thing.
The truth is, with prayer we rarely ever have the right words.  We don't even understand our own hearts most of the time, how can we possibly express them to the one who made us?
But in his good grace, this maker who loves us has given us the words to express what we feel.  He gave us language for what we don't understand.  These words are the Psalms.  This ancient book of hymns and poetry stands as the hymnbook of the church.  It gives us the words we need to use when we cry out to God concerning any emotion.
The Psalms are the words that God's people throughout the centuries have leaned on when they have cried out to God in praise, for justice, for redemption and for provision.  When we struggle to find those words, we just need to turn to the center of our paper bound Bibles and look for the Psalms.
There is a beautiful album that recently came out by Sandra McCracken on the Psalms.  You can read an interview and listen to some of the songs here.  This is what Sandra had to say about the project.
These are sacred, borrowed words, with new melodies to help draw the longing and joy up out of our hearts and onto our lips, as we watch and wait to see his story come in it's fullness.
God's story is playing itself out in our world. Pain being overcome with restoration happens all the time.  We who live in the midst of his story need the words to express our agony, our longings, our hopes, and our exhilaration.
The Psalms are these words.  Join us Sundays the rest of the summer as we explore this patchwork poem book from those who have gone long before us.