Why Should I GO to Freedom Fellowship?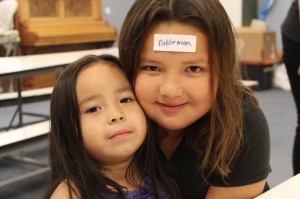 Anyone who knows me, knows I love kids.  I always have.  I played with dolls for far too long.  Every job I had as a teen-ager and college student revolved around children.  And I am currently "mom" to five of the greatest treasures God has ever created.
So as a "kid person" of course I would love serving the children at Freedom Fellowship.
But, why should you?
Going to McLaughlin, SD and ministering to the children there, I am constantly reminded that God and God alone sustains us.  Most of the children that attend the church live in families – of some sort.  They have caregivers. . . technically.  Yet many of them feel very alone.  Many are "emotional orphans" who are in many ways raising themselves.  They come to church in need of a shower, clean clothes, and a hot meal.  They come lonely, needing to feel love – begging to be noticed.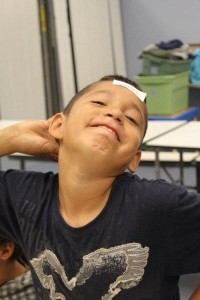 As I walk into the sanctuary many Sunday mornings – the sanctuary filled with many children sitting all by themselves, because their caregivers are not there – I think about this song…
"To the one who's dreams are fading all apart
And all you're left with is a tired and broken heart
I can tell by your eyes you think your on your own
but you're not alone
Have you heard of the One who can calm the raging seas
Give sight to the blind, pull the lame up to their feet
With a love so strong He'll never let you go
oh you're not alone
You will be safe in His arms
You will be safe in His arms
'Cause the hands that hold the world are holding your heart
This is the promise He made
When everything is falling apart
You will be safe in His arms…"
and I think about how much easier it is to believe in God's love when we hear about it in the loving arms of someone who truly cares.
Many of our children have grown up in church.  They first heard praise and worship songs swaddled in the arms of their momma.  They assimilated the feeling of warmth, safety, and love they felt in the arms of their parent with the love of their Heavenly Father.  In a perfect world, we would ALL grow up feeling this way.  We would all grow up feeling warm and cozy and surrounded by love, by safety, by hope.
But THIS world is far from perfect.
And while our actions will never be perfect in this world, God chooses to use us to make it a better place.
When I sit next to a lonely child at Freedom Fellowship and hold her hand during worship, her reality does not change.  But maybe, just maybe she feels my physical love and connects it with the One who can calm the raging sea.  The One with a love so strong He'll never let her go.
I believe that is what God is calling us to do at Freedom Fellowship.  He is calling us to love the people there in simple ways, so that He can heal.  Your giving a child the opportunity to feel safe and loved by a "real person" may just open their hearts to the very real, very true love of the One who will never let her go.

We will be traveling to McLaughlin, SD once each month.  We will need volunteers to cook, to drive, to teach, to sing, to play, to snuggle – but most of all we need people willing to LOVE.
Please pray about joining me on one or more of these trips.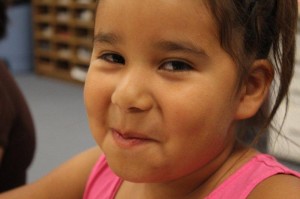 "Kid person" or not, I believe God could use you at VBS in McLaughlin!