The Power of Family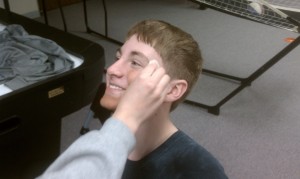 Let me start by saying I find no joy in attending funerals.  Seeing the pain in the faces of people who have been affected by the death of a family member or dear friend is something I will never enjoy.
But, in the midst of the pain and sadness, there is truly hope.  I want to tell you just such a story about a young man in our Ignition group, our senior high ministry.
Jarod is one of those kids you just instantly like, as you can see from the photo of him.  He is actually having one of our girls apply some bronzer stuff on him.  It seems whenever we need comic relief Jarod is there to take over.  Not only that, but the responsibility this young man shows is unreal.  He is a tremendous student, has a part time job he works at least 18 hours a week at along with attending high school, and also takes care of his younger brother when his parents are at work.
The funeral I attended was for Jarod's uncle, whom he was very close to.  I arrived to find Jarod sitting in a chair and we struck up a conversation about school, work, and how he was handling this whole thing.  He said he was doing a bit better each day, but it was still hard.  Soon after some relatives came over to talk to him so our conversation ended.
During the funeral Jarod was sitting between his mother, who's brother the funeral was for, and his father.  They played a song that she had picked which reminded her of her brother, it was a beautiful song that she listens to quite a bit because they play it for her youngest son when he goes to sleep.  As soon as the song came on tears began to stream down her face.  The pain and sadness were so evident.
But then it happened, the moment that absolutely warmed my heart and made me smile from ear to ear.  Jarod, recognizing that his mother was hurting, leaned over and put his arm around his mother and held her while she was hurting.  I was so moved.  Seeing Jarod reach out to his mother was just amazing.  Keep in mind he is a sophomore in high school so hugging your mother isn't exactly cool.
In Jarod I saw a young man who embodied what Jesus asks of all of us, to forget ourselves and serve those who are in need.  Jarod did just that, and I could not be more proud to have Jarod in our youth group!
– Josh DeKok