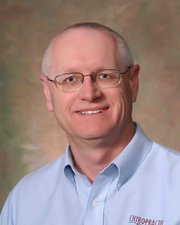 Dennis Sailer
Congregational Care Coordinator
Tell us a little about yourself… 
I was raised in Bismarck and only left Bismarck to attend Palmer College of Chiropractic in Davenport, Iowa for three years. I have attended Bismarck Community Church since the age of four so I have a long history at the church. I have four brothers and two sisters, I am the middle child so now you know why I am the way I am. My Mother and two brothers and sisters live in Bismarck. My wife, Debbie, has been part of my life for over forty years. In November of 2011 we will be married for thirty-eight years. Who I am is a child of God and a Christian.
What are you passionate about?
I am passionate about people and helping them with there physical and spiritual health. The most important health issue is the spiritual condition of our heart.
What do you do here at Bismarck Community Church?
My job title is Congregational Care Pastor. I have the opportunity to be Vice-President of Consistory, Elder, Media Team member and worshiper of God. In my job I work with caring for people of the congregation that need care. I am still adjusting to the job but have some plans for the next year.
What is your favorite Bible Verse?
Psalm 139:1-6
"1 You have searched me, LORD,
and you know me.
2 You know when I sit and when I rise;
you perceive my thoughts from afar.
3 You discern my going out and my lying down;
you are familiar with all my ways.
4 Before a word is on my tongue
you, LORD, know it completely.
5 You hem me in behind and before,
and you lay your hand upon me.
6 Such knowledge is too wonderful for me,
too lofty for me to attain. "
It tells me that the Lord knows me, what I am doing and what I say. The Lord is in front and behind me and holds me in His hands. This is such wonderful news.
Where is your favorite place to have one-on-one time with God?
My favorite time to spent one – on – one time is in the morning. My favorite place is when I am in His nature, so when I am hunting, walking or working on the farm I feel the closest. God's favorite time and place is anywhere and anytime. I try to make any place a favorite place to be with God.