Makin' Bacon
Once each month, I have the privilege of bringing a mission team to Freedom Fellowship Church in McLaughlin, SD.  It is a time I look forward to all month.
Sometimes, joining a mission team can feel really intimidating.  We can easily talk ourselves out of serving by selling ourselves – and thus our God – short.
I want to tell you about a team member whose simple acts of service inspire me.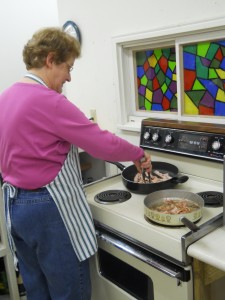 This is Fran.
Fran goes with our team to Freedom Fellowship every chance she gets.  Her task is simple.  She makes bacon – really, really good bacon!
Making bacon, may not sound like much of a mission.  But let me assure you that it is!  You see, many of the children that attend Freedom Fellowship do not have much food in their homes. So when the children walk into church on Sunday morning, and smell bacon frying – which is arguably the best smell in the universe – they instantly know that church is a place that will meet their needs.
Most weeks the children enter very quietly.  They are often dirty and in dire need of a hot meal and a hug.  As they sit at their tables, waiting for their plates, they are sometimes silent.  That was shocking to me at first.  My children chatter as they wait for their meal.  The school lunch room is always VERY noisy.  But the same is not true when the kids arrive at Freedom Fellowship, because they come empty… lacking… desperately needing to be filled up.
So we feed them.  And always, always what they love best is Fran's bacon.
Once their bellies are full, they are ready to hear how much Jesus loves them.  They are ready to worship.  They are ready to pray.  They are ready to learn. They are ready to giggle and wiggle and play.
I encourage you to be inspired, as I am, by Fran.  Makin' bacon – a simple task, has become a beautiful offering to our King.
Live a life of ministry. Offer your skills to God. And He will use them in powerful ways.