June 2012 Reflection
by Ron Klein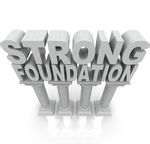 When we talk to knowledgeable folks in the building trades regarding our home that was flooded for three months, they commonly ask, "How's your foundation?"  Maybe we need to be asking ourselves this question regularly regarding life in general.  What we will discover when we honestly ask this question is that there is only one foundation that is not cracked and shaky.
Some people may rely on their good luck, but life experience teaches us that we cannot rely on always being lucky enough to avoid misfortune.  At times I have been guilty of relying on living a perfect life.  But nowadays I agree with a quote I recently read, "To err is human, and some of us appear to be more human than others."  If we cannot rely on good luck or our best effort, what can we rely on?
Here is our strong foundation: "Not that we loved God, but that He loved us … so we know and rely on the love God has for us."  (I John 4:10, 16)  Our firm foundation rests outside of ourselves and outside of fate.
The expression "I have God in my heart," is our secondary response to a primary truth.  The primary truth is "God has me in His heart."  Because "God first loved us," (I John 4:19) we are able to courageously carry on when our circumstantial luck runs out and when our choices and actions fall short. Do you know and rely on God's love for you today, or is your foundation less reliable?