Jemo Cobblestone Road Project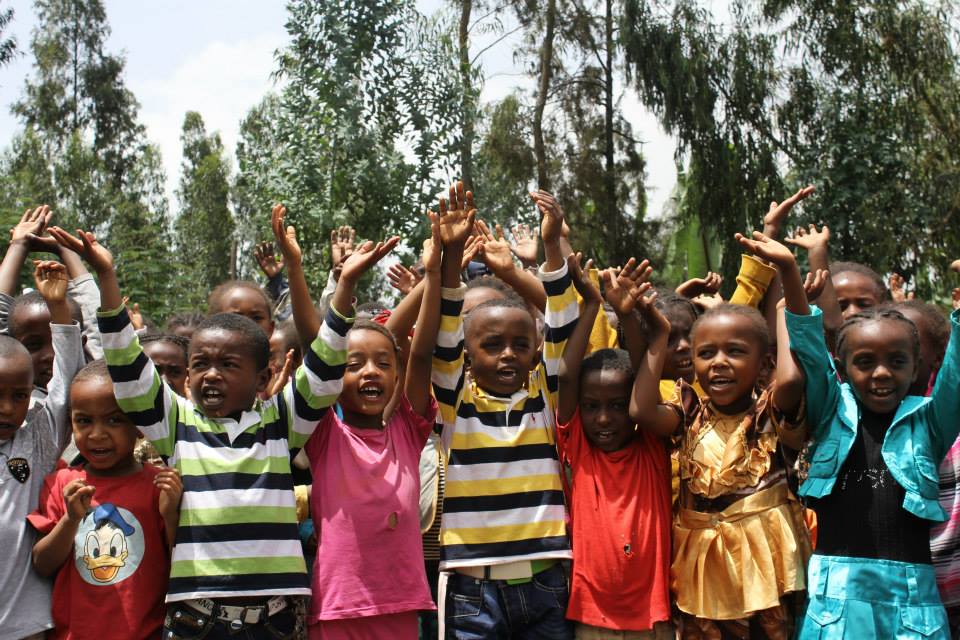 Background
Jemo Mekane Yesus Congregation was established in 2000 by four Christian families who moved to the Jemo community in 1996 to start their own church. Jemo Church has grown to nearly 500 members, consisting of two ordained ministers and over 50 volunteers who serve the church and the surrounding community. The church congregation and leadership have a good standing relationship with the local government and other authorities who are involved in both developmental and community matters in the vicinity.
Jemo is located in an overpopulated slum where most of the houses are not conducive for living. The environment surrounding the Jemo Church CarePoint is very damaged and corroded due to practices related to mining natural resources. The techniques used to mine these resources include detonating explosives and other harmful methods.
Many of the inhabitants in the area are uneducated and impoverished daily laborers who have no reliable income to support their families. Currently, there are over 200 destitute children in the community. Among these, 60 percent of the children are attending classes at a nearby government school.  Many parents and caregivers, however, are unable to afford to send all of their children to school and as result the cycle of poverty continues. Jemo Church operates as a drop-in center, a safe place where needy children can come for care and support.
In September of 2012, Bismarck Community Church teamed up with Children's HopeChest to form a partnership with the Jemo Church CarePoint in Addis Ababa, Ethiopia.
Vision
The goal is to help Jemo become a self-sustaining community within 7 to 10 years. At the same time, as supporters of this vision, we all have the opportunity to become an intentional part of God's plan that will undoubtedly have a transforming effect on how we live out our own lives in our own communities. Through our partnership with Children's HopeChest, we will be teaming up with some very dedicated church leaders and community volunteers at Jemo.  They want to be self-reliant.  They are hardworking, intelligent people that understand what it will take to achieve this goal.   They are very grateful for the opportunity that this partnership presents. They have a renewed hope for themselves and for future generations of Ethiopians!
At present, the Jemo CarePoint consists of a small church building sitting on a small parcel of land with some even smaller buildings housing an office, Sunday school classroom and the Pastor's residence.  There is also a temporary cooking shelter made of sheet metal and a latrine with no plumbing. The entire compound is surrounded by a tattered, flimsy fence.  The leaders and volunteers are caring for approximately 200 beautiful children that have very little in the way of basic necessities.   While the children are receiving Christian discipleship regularly, they still need food, clean water, clothing and basic medical care just to Survive.  In order to Thrive, they will need access to safe schools with good teachers, good roads in order to get to church and school safely, a permanent sheltered cooking area in order to provide sanitary food, especially during rainy season, and eventually a larger church and classroom area to accommodate the growing congregation. In order to Succeed, the children and their families will need mentors to provide them with the ideas, education and training necessary to generate self-sustaining incomes.
The vision, using the model of Survive, Thrive and Succeed developed by Children's HopeChest, is to help Jemo become a fully self-sufficient community in 7 to 10 years; one that is no longer dependent upon us, but dependent upon trusting the Lord and their own God-given gifts and talents.  How do we get there?  One step at a time!      
 Progress
Since the formation of the Jemo partnership in September of 2012, much progress has been made.  Following are the highlights:
1)    150 children were originally profiled for sponsorship in September 2012.  100% sponsorship was achieved in April of 2013. 
2)    We raised over $9,000 for the Jemo Nutritional Fund during the 2012 Christmas season.  These funds are being used to provide children with take-home supplemental food on a monthly basis.
3)    Because of high sponsorship levels in a short time period, some of the funds were used to purchase each child a sorely needed pair of shoes in February of 2013.
4)    In May 2013, 50 more children were approved for enrollment. As soon as the child profiles are complete they will be available for sponsorship.
 5)    We took our first Mission Trip to Jemo in May of 2013.  A wonderful team of 14 individuals were able to spend precious time building relationships with the children and leaders of the Jemo community for 6 days.  
 6)    During our time at Jemo in May of 2013, the mission team was able to assist in building a masonry wall and fence along one side of the compound.  The funds for this project were raised at our first annual Jemo Banquet held in April of 2013.
Immediate Need
The Cobblestone Road Project has been identified by the church leaders and Children's HopeChest staff as the most immediate need for the Jemo community to Thrive!  The significant amount of rain in the area, the geographic topography, lack of infrastructure and the low socioeconomic status of the community have greatly affected the living conditions of the children and their families.  During the rainy season, children are unable to attend Sunday school, school, or play safely in the area, as flash floods can occur at any time.  The children's family and/or guardians become fearful and are unwilling to send the children to school or church.  To overcome this problem, the Jemo Church/CarePoint leadership, in consultation with the community and the local government, plan to support the construction of the cobblestone road.  We believe that the successful completion of this project will increase the emotional and physical stability in the community and help to make it an attractive and desired area to live.
Historically, the Jemo community resided in a rural village and relied heavily on agriculture. This area underwent urbanization in the early 1990's, but the appropriate infrastructure was never established. Eroded hillsides and pathways have left this area susceptible to flooding during the rainy season, thereby making it dangerous for children to play or walk. With over 10,000 families living in the community, a reliable road is crucial for their day to day commute within the village.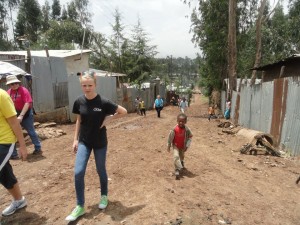 The location of the proposed new cobblestone road is pictured in the above photograph.  The Jemo compound is located at the bottom of this steep-sloping road.  Constructing a cobblestone road and a drainage system (similar to the photograph below) will resolve these ongoing problems and safety hazards.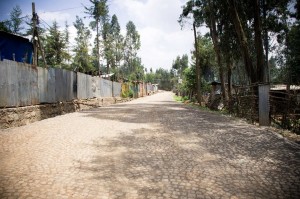 The total cost of the project is $62,500.  The local government is going to contribute $20,500, leaving $42,000 unfunded.  To date, there are commitments of $16,000 from various donors.  We hope to raise the remaining $26,000 as soon as possible.  The urgency is due to the upcoming rainy season which starts at the beginning of July.  If we can get the funding to Ethiopia by the end of June, the contractor will be able to complete most of the project before this year's rainy season halts the process.
Your contribution to this project will aid in the construction of a 746 meter cobblestone road which will help to assure children's safe travel to church activities and school this rainy season and for many more to come. Thank you for your generous gift to bring community transformation stone by stone!
The easiest way to give is by clicking here.
For additional information or for any questions related to this project please contact:
Troy Reno
PS – In case you are thinking "What about the bridge?"  here is a brief update.  In the last year the government has constructed two permanent bridges that are safe for both walking across and driving across year round.  While these bridges are not quite as close as the dangerous bridge that we told you about last year, they are close enough for the families of Jemo to use during the rainy season.  The dangerous bridge provides a short cut.  While we all love taking the shortest route, it is not always necessary.  Going the longer way in and out of Jemo only adds a few blocks to the route making it unnecessary for us to put a walking bridge at the top of the project list.  Instead, this road has been deemed most important by all involved.  We are really thankful that God has provided safe access into Jemo during the rainy season!  We are hopeful that God will provide all the funds necessary to make this next step possible as well!