Introducing Team Hope
May 9, BCC will send it's first mission team to Jemo, Ethiopia.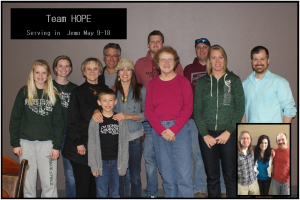 Team members are (L to R) Sierra, Alicia, Donna, Grant, Bob, Kristen, Colin, Fran, Chad, Ashlee, and Mike.
Pictured below are Jim, Chantalle, and Troy.
We are all very excited to fly away in 3 days!  I hope to introduce each of our team members in a post later this week.
For now, I have included a schedule explaining what we will be doing while in Ethiopia.  I have also listed some prayer concerns.  We would greatly appreciate your prayer support during this trip!
Team Schedule:
Thursday – Leave Bismarck, fly to Washington D.C
Friday—Fly from D.C to Addis Ababa, Ethiopia
Saturday—Arrive in Ethiopia at 7:30 am Ethiopian time (11:30 PM Friday night ND time!)  Tour Jemo and meet leaders.  Do some touring in Addis Ababa as well.
Sunday—Attend worship at Jemo.  Meet the children and play after church.
Monday—Begin working on the fence project.  Also visit the homes of some of the sponsored children.
Tuesday—Continue work on the fence, tour Kind Hearts, play with the children after school and share a snack.
Wednesday—Have all day with the children!  We will teach Bible lessons, play games, do a craft, share a snack, and give their gifts!
Thursday — FEAST DAY!  Purchase goats and feed the children lunch which includes wat (goat stew), injera (Ethiopian bread), and soda!  We will also play games, do a craft, and teach a Bible lesson on this day. Then we will say good-bye as our flights leave late this evening.
Friday—Fly, Fly, Fly.  We have long flights and long layovers— but will finally arrive home at  ~12:30 am Saturday
morning.
**Time in Ethopia is 8 hours ahead of ND.**
Some things we would like you to cover in prayer:
¨ That God would be glorified in all we do.
¨ Health and Safety
¨ That all bags arrive—especially the kids' gifts!
¨ Team unity
¨ That we would be culturally aware, respectful, and honoring.
¨ Good sleep
¨ Joy and laughter
¨ Deep and lasting relationships to form
¨ Wisdom and flexibility
¨ Understanding—both in relation to language and culture
¨ The ability to communicate with home
¨ The health, safety, and peace of mind for our families, jobs, and businesses we leave behind.