Going Deeper in 2015
A part of our mission is to "Go Deeper in Authentic Christian Community."  Now we are embarking on pursuing that mission in force.  Explore the opportunities you have for going deeper at BCC.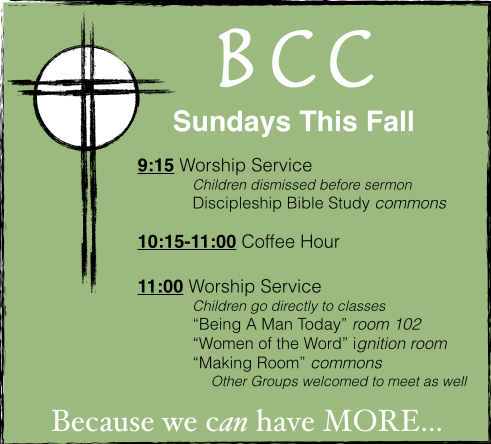 Discipleship Bible Study is an opportunity to learn God's words more completely and invite others in to ask questions.
Being a Man Today will help men explore ways to live out their calling in the world we actually live in.  We also recommend you check out the monthly men's breakfast.
Women of the Word starts with the belief that women don't need more crafts, but rather more of the Word of God.
Making Room is a study on what it means to love those who are different than us.  This is what it looks like to actually BE the church.
Teenagers will also explore how to go deeper.  The Middle school students are exploring their growing faith while the High School group is learning what it means to pray.
Kids services are available for all ages during the second service, and nursery through Kindergarten during the first.