Commitment to Christ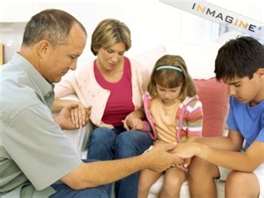 Deciding to follow Christ and to be his 'hands and feet' in this world may seem overwhelming to people.  Many parents may not have been brought up in a Christian environment that ever talked about the importance of verbally professing Jesus Christ as our Savior.  Some of us were raised in churches and homes that indeed helped children and families make this special commitment but have since forgotten the simplicity of applying this to our everyday lives.  And still others are trying to lead their families spiritually, but just want MORE!
In the Profession of Faith class on March 17th, we will discuss tools to help better equip parents in leading their family's faith walk. Some things to think about before this class are: How do I lead a Faith Talk? What are God Sightings? How do I Bless my kids? How do I Celebrate my kids Faith Commitment?
We pray that when you leave this class you will have an understanding of a few things.  First, please understand there is NO DEFINITE age that a person has to be to commit their life to Christ.  This milestone isn't about reaching the "goal" first, but rather being ready to be a part of a lifelong race.
Second, we know that families are all different.  The tools we provide you with in this class are here to assist and empower you and your child in their spiritual growth.  These are tools that can be used alongside what is already being taught in the home.
At Bismarck Community Church we believe that a partnership between families and the church will help build a foundation of important truths necessary to make a significant faith commitment.
Looking forward to seeing you on the 17th,
Ashlee Beasley and Julie& Brent Kinworthy