Celebrating God's Incredible Faithfulness
No matter how you measure success, 2013 was an incredibly successful year in our partnership with Jemo.
Statistically speaking, we praise God for the following accomplishments:
All of the 150 children we had originally committed to finding sponsors, were sponsored!  We then added 50 more children to our sponsorship program.  Currently 15 of those 50 children have sponsor families.  If you would like to sponsor a child, please click here!
Our first annual Jemo banquet was a smashing success.  $13,000 were raised.
Our first mission team traveled to Jemo.
The first capital project – a fence – was started and completed!
Funds to purchase school uniforms for the 200 children that are a part of the sponsorship program were successfully raised.
Funds for a cobblestone road came in quickly enough that 40% of the road was built before the rainy season.  Just this week, the remaining funds have been raised.  This road will be completed soon.
A goal  to raise $30,000 for a health and nutrition fund was set.  Since Thanksgiving, over $20,000 has been raised.
A team of 25 people are preparing to travel to Jemo this coming May.  A portion of that team is medical personnel.  They are planning our first medical mission.
If that were not enough, $10,000 was contributed this week to begin the funding for Jemo's next capital project.  While we do not yet know what this project will be (we are awaiting confirmation from the Ethiopian staff) God obviously does!  And even before we know what is needed, He is providing.
Relationally speaking, this project has been equally blessed.  Though it takes funding to make projects happen, I believe that true change. . . lasting change comes in the form of relationships.  Through this project, I have personally witnessed God work in mighty ways in the hearts of many.  I have seen hope spring, and it is a beautiful sight to behold.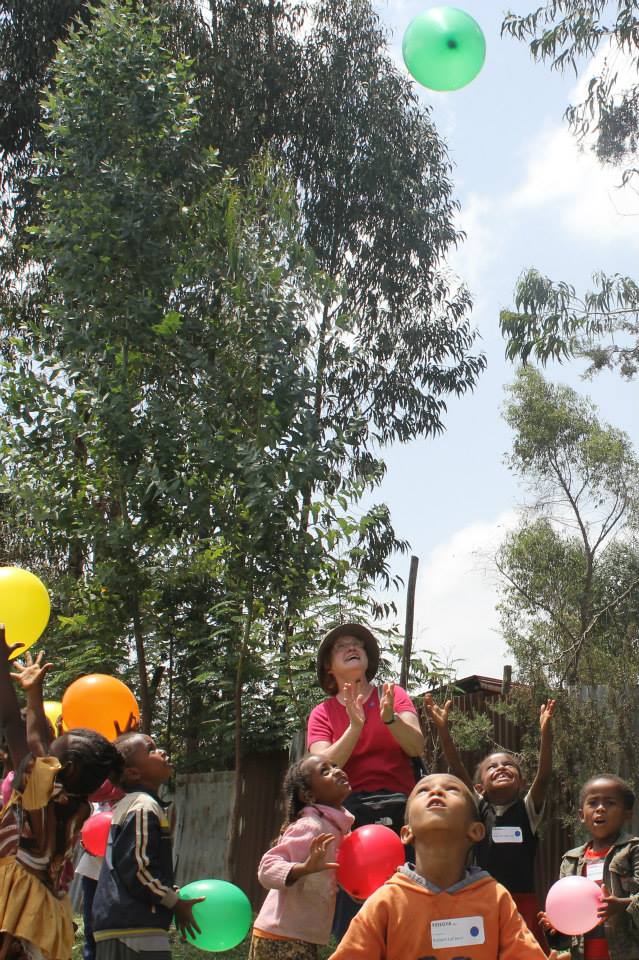 While I could site many examples of hope springing in and through Jemo, this photo is my favorite.  To me, it clearly shows the love and joy that is at the center of this partnership.  Fran, like many others, has been forever changed through this project.  These children, their families, and these children's children are being forever changed by this project.  For Fran, and the rest of us westerners, change happens when we choose to give, to love, and to serve "the least of these."  When we do – we learn that we are ALL "the least of these."  God has so much to teach us through service, sacrifice, and simply following.  For the children, the change is coming in the things we take for granted – education, shoes, nutrition, Sunday School, safe roads on which to travel. . .
The funny thing is, after being at Jemo, I am certain that the changes that happen in "us" (the westerners) is so much deeper and richer than anything we provide to the children.  God is doing amazing things in the hearts and lives of those He is calling to this project.
His faithfulness toward this project is absolutely incredible.
It takes my breathe away and brings tears to my eyes.   Only God – ONLY GOD – could cause all of this to happen in such a short time.  Only God!
I thank you and praise you, Lord Jesus, for ALL you have done.  Great is Your faithfulness, Oh Lord.  Great is Your Faithfulness.
Written by Alicia Dietrich