Grapple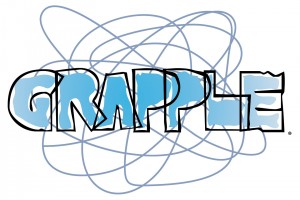 Sunday Mornings
We encourage our 5th and 6th graders to volunteer and help with our Sunday Morning  Children's Ministries or remain in church with their family.
Wednesday Nights
"GRAPPLE" in Room 102
This program is for 5th and 6th graders and meets each Wednesday night from 6:10 to 7:30 PM.
Grapple is designed to mentor "tweens" as they transition from childhood to teenage years.  During Grapple their is a lot of team building, as kids discuss tough questions as a group.  It is highly interactive, many games are played, relationships are formed, but the central discussion always returns to Christ's desire to have a relationship with us in all that we do.
We are very excited to announce that our Grapple kids will be going on aMission Trip in June!
June 23 – 30, 2012 our 5th and 6th graders will be in Loveland, Colorado learning to love and serve in the image of Christ.  On this 7-day adventure, our kids will make new friends, create new memories, and have a wonderful time together.  From the time they arive on Sunday until they leave on the following Friday morning, they will discover that as they focus on the needs of others… they grow closer to Jesus!
The young people will typically serve on the same project for the entire week.  They will serve alongside preteens and adults from other churches.  This helps new, meaningful relationships develop!  Service projects may include gardening, painting, spending time with elderly or shut-in persons, preparing meals, etc…  No matter the project, our kids will grow as they move out of their comfort zone and serve the needs of others!
WE WILL BE DOING SEVERAL FUND RAISERS IN ORDER TO MAKE THIS TRIP AFFORDABLE FOR THE PRETEENS OF OUR CHURCH!