Grades K-4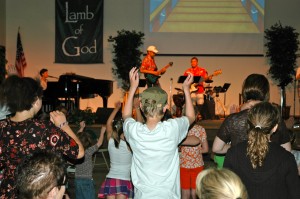 Sunday Mornings
"Kids Church"
K – 2nd grade in Room 109 (in the basement)
3rd – 4th grade in Room 103 (in the basement)
At Bismarck Community Church we strive to reach each and every member of our congregation in a personal way.  In order to reach this goal, we begin each Sunday morning with our whole congregation meeting in the sanctuary for worship.  Mid-way through the service (usually just before the sermon) children are dismissed for Kids Church.  We do not dismiss kids because they are "too noisy", "too distracting", or  "too wiggly" for church.  We DO dismiss kids because we want to teach them in a way that will reach them.  We provide Bible lessons that are designed to lead our kids into a relationship with Jesus.  We want each child to fully realize that Jesus loves them!  We want each child to trust Jesus to be their leader and forgiver!  We want children to love and follow Jesus.
Wednesday Nights
"Life Club" in the Fireside Room
This program is for ages K through 4th grade and meets each Wednesday night from 6:10 to 7:30 PM
Life Club is designed to be a fun way to insert faith into your week!  Each night begins with some rockin' worship that pleases both God and our kids!  Bible truths are presented through a variety of skits, object lessons, videos, and games.  Mentorship and prayer takes place between adult leaders and small groups of kids.  The evening concludes with playtime in the gym.  Central to all these activities is our desire to reach your child's heart with the love of Christ.