Klein Mission Update, January 1, 2012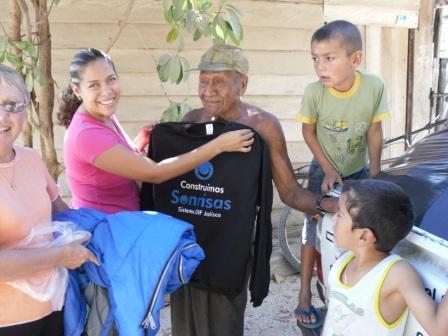 This is a taste of God's Spirit at work at San Patricio by the Sea church this week-end:
25 year Jane from Kenya shared a song in Swahili, one of her four languages at our worship service.  Her joy was contagious, and her joy was not dependant on having easy circumstances in Kenya.  Her informal adoptive parents from WA. were learning more about her life along with the rest of us.
A first-time visitor from CA. shared with me in casual conversation before the service that her attendance was a significant event for her.  She had drifted from God since the death of her husband several years ago.  She picked up a copy of the devotional book that was available on the back table and said that she intended on using it.
A female from MT. shared with Nancy after the service that her Mexican husband has indicated that he is ready to make a commitment to Christ.  He confessed that fear had been far too great of an influence in his life since an accident injured his hand.  Regular attendee, Robin, "just happened" to be standing there.  She is fluent in Spanish, she has a prosthetic arm because of an accident, and she was willing to visit with him.
Yesterday morning we had stopped by the new palapa and Lou was there working on the electrical wiring.  He shared that Norm from BC., who had been curious about the church for several years before becoming a regular attendee this year, has been a great help in getting the wiring put together for ceiling fans and lighting.  You can check out the palapa progress on our web-site: www.sanpatricio-by-the-sea.com
We stopped at a small resort here last night to celebrate New Year's Eve with them.  We found out that they had collected clothing, food, and financial gifts from their resort guests to be distributed by our Community Service Team to the needy in the area.  The church distributed 40 "dispensas", basic relief supplies for flood victims several weeks ago.
We are starting a cultural awareness class this coming week and it sounds like the twenty copies of the book we are going to use will not be enough.
IT'S A NEW YEAR.  WE HAVE THE SAME GOD!  Thank you for your continued prayers and support for the ministry here.